If you live, work, or play in Placentia and need wheel alignment services for your vehicle, look to Yorba Linda Auto Service. Our shop is located about 10 minutes away from Placentia, California, and we can help you determine if your car truly requires alignment services. Once we detect the problem, our certified mechanics will make the necessary recommendations and repairs. You can trust that we'll properly service your alignment because Yorba Linda Auto Service holds the only ASE Blue Seal of Excellence in Placentia!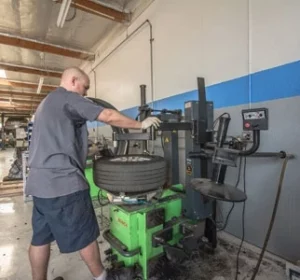 How do you know when your car needs alignment services?
There are several easy ways to test the wheel alignment on your vehicle and see if it requires alignment services.
Go to a flat, straight stretch of road and, driving at a very low speed, release your steering wheel. If your car was traveling straight but veers to the right or the left when you take your hand off the wheel, your alignment is off and needs to be serviced.
A similar test is to check your steering wheel while you're driving normally. If you notice that you need to angle it one way or the other to get the car to travel straight, you have a problem.
If your car vibrates or shakes when you're driving straight, or if your steering wheel doesn't return to a full center position after you execute a turn, your alignment may be off.
Your car tires will also show signs of uneven wear if your wheel alignment is off. In particular, you will notice that the treads show greater wear on one side than they do in the middle.
It is very dangerous to continue driving with alignment problems, so have one of our mechanics service your vehicle right away. Schedule an appointment, call us, or drive by our shop for your wheel alignment service, located at 801 Lakeview Ave. Unit G, Placentia, CA 92870. Conveniently located near Placentia, Yorba Linda Auto Service welcomes you to contact us any time.