Yorba Linda Auto Service is a friendly, family-owned auto repair shop that proudly serves the communities around Placentia, California. We strive to make quality our primary goal and that we are a trustworthy team made up of ASE-Certified Automotive Technicians and Service Advisors.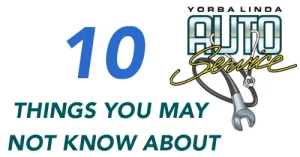 1. We are the only ASE Blue Seal of Excellence shop in Placentia and Yorba Linda that service Domestic and Asian cars.
That means we have met the criteria to be recognized for Automotive Service Excellence and we meet the high standards set by this organization.
2. We are a multi-generation, family-owned business and we have proudly serviced and repaired the vehicles of multi-generations of local families.
From great-grandfathers to freshly minted teen drivers, our family loves serving all the families that come to us for auto repair.
3. We have a mission to make a positive impact both within our local community and also on how the general public perceives the auto repair industry.
That is why we work hard to be honest, friendly, and courteous, and look out for our customers' best interests. We're the good guys and we're happy to show you why each time you bring your vehicle to us.
4. We send our team to numerous training workshops throughout the year.
Why? Because automotive technology is always advancing and we want to stay on top of it all. The technology built into today's modern vehicles requires extensive training in things like computer diagnostics, oscilloscope reading, and how to utilize state-of-the-art equipment.
5. We are a AAA Approved auto repair shop, and we have held this designation since 2005.
This means we have met the criteria for quality customer service, which gives our customers peace of mind that we are a trusted shop.
6. We are actively involved in the Automotive Service Councils of California.
So much so that Dan Guy is Chapter President and Travis Guy is our regional representative. This statewide organization's mission is to maintain a high level of professionalism, integrity, and ethical behavior throughout the auto care industry.
7. We are among the top 10% of auto repair shops in the country because we meet such high industry standards.
We are thrilled to be a top-performing shop and we are proud to service the vehicles of our friends, neighbors, and community at large.
8. We actively advocate that young women and men who are interested in science, math, technology, and engineering join our industry.
Gone are the days when auto mechanics are considered "grease monkeys". We wish to welcome and encourage more women and men to join our industry because you can earn a good living using your hands and your smarts without having to go into debt with large student loans.
9. We understand that our work creates a ripple effect of joy.
You see, when we take care of you and your vehicle, we are helping you be safe and happy. Then, you can hit the road again so you can go about your day and make your world a better place. When you make your world a better place, you are helping us expand that ripple effect of joy so the people you touch can make THEIR world a better place, and so on. Isn't it cool how a ripple effect of joy can start with something as simple as an auto repair?
10. We have a deep commitment to our customers.
It may sound corny, but we see our customers as an extension of our family. We love seeing you when you come in for service, yes. But we also love seeing you at the grocery store, at the ball game, picking up the kids at school, and at local events.
When your vehicle needs service, we invite you to visit Yorba Linda Auto Service, located at 801 S Lakeview Avenue, Unit G, Placentia, CA 92870. Schedule an appointment for service or call us if you have questions about your vehicle. We are here to serve and look forward to seeing you soon!